Currently, many Windows 10 users are reporting Photos app errors: "oops, we couldn't save that one." Photos app is the most used app in Windows, as it comes with lots of handy editing features that make a desirable photo like other best applications. However, users reported this error after installing the new updates of Windows 10. In this article, we will find its causes and solutions to fix this error soon. 
The Impact Of "Oops We Couldn't Save That One" Error On Users
Unfortunately, Windows 10 reports several bugs and errors at a high rate. Although some mistakes have been fixed already, users are getting frustrated with this new error- "Oops we couldn't save that one ."Still, you do not need to worry. If you are encountering this error and want to fix it soon read this post. 
What Are The Causes Of The "Oops We Couldn't Save That One" Error?
We have investigated this error in-depth by checking various reports and repair strategies mainly used to fix the error message. Based on our investigation, we have found the given suspects that triggered this error. 
If EXITF Data Is Corrupted 
It is one of the common errors of this error message. Fortunately, you can resolve this error by using Paint or saving the image into another format like JPG, PNG, etc. 
If Photos App Is Corrupted 
It is yet another possible reason users are facing this error. If this is your case, you can resolve it by resetting the Photos App app. 
Violation Of Photos Sharing
Violation of photo sharing is another culprit that occurs due to violation of photos app files. To fix this issue, you need to reset the photos application. 
Note: If you are using another photo editor instead of a photos app, this error message may be encountered since the app doesn't support third-party supportive files such as GIMP or Irfanview. If this is your case, you can resolve the issue by editing and saving the file with third-party software. 
How To Fix The "Oops We Couldn't Save That One" Error Message?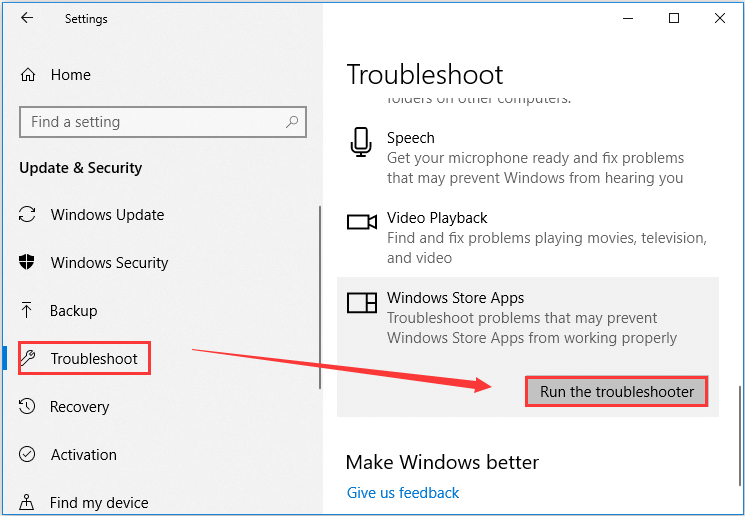 Here we are sharing several ways to fix this error message. So, read below.
Method 1: Running The Troubleshooter For Windows Store Apps
Many users are struggling with the same error and reporting Oops messages. If this is your case too, it contains many repair strategies to fix this quickly. On the launch of the utility, the following strategy is recommended. So, look at the given step-by-step guide.
Step 1:

Tap windows key + Run to open the run dialog box and enter ms-settings: troubleshoot. Then press enters to launch the troubleshooting settings app. 

Step 2:

Next, in the troubleshooting app, find the fix other problems option, tap on the windows store app, and click on Run the troubleshooter. 

Step 3:

Now, in the windows store apps troubleshooter command, wait for the diagnosis completion. Once the suitable repair is found, tap on applying the fix button to enforce the repair.

Step 4:

Once the fix is completed, restart your computer and see your issue is fixed. 
However, if you still encounter the same message, move to our method 2. 
Method 2: Installing Pending Updates
If your issue is not fixed yet, there will be an issue regarding the windows update. You can resolve this issue by checking all the pending updates. However, this issue is faced by those who have bugs due to the lousy update of windows 10. Here's how you can fix it. 
Step 1:

Launch the run box on the computer using command- windows key + R. Then enter ms-settings: windows update tab of the settings. 

Step 2:

Check the inside windows update tab for current updates. Follow the on-screen details and install all the pending updates. 

Step 3:

Once the updates are fixed check if the image is saving or not. 
If still the error "Oops we couldn't save that one" persists, you can try Method 3. 
Method 3: Saving/Converting Image Into Another File Format
One of the easiest ways to fix this error message is saving the edited file in formats like JPG or PNG by using Paint. It is a proven and experts' recommended trick that works properly. You do this by using Paint. However, the issue mainly persists in .PNG files. 
Also, if you use lots of image file formats since you have lousy EXIF, the error might pop up. In that case, Paint is most capable of cleaning bad EXIF data. Here's how you can do this. 
Step 1

: Open the image you want to convert, then right-click on it and open it with Paint. 

Step 2

: Once the image is opened, save the file into JPEG format at an inappropriate location. 

Step 3

: Tap on the save button, and your image is saved in JPEG format.

Step 4:

Now open the photos app and see if the error is fixed. If not, then check Method 4.
Method 4: Reset Photos App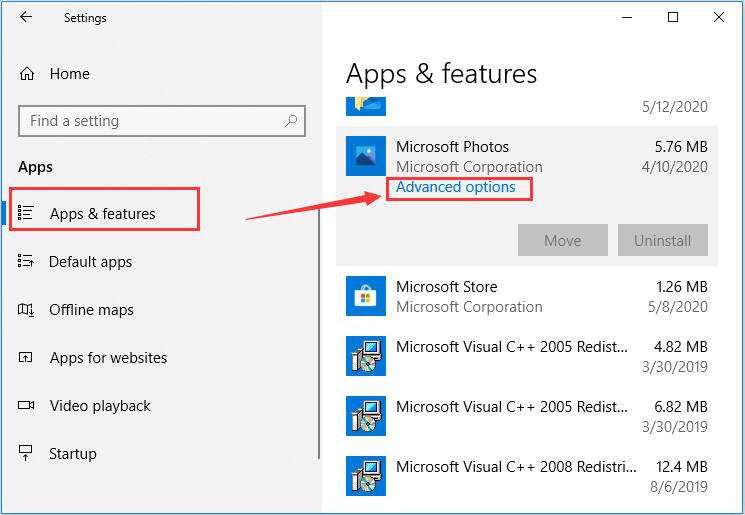 If none of the methods is working for you, the reset photos app is the only option to fix the "Oops we couldn't save that one" error. Here's how you can do this. 
Step 1:

Launch the run command and enter ms-settings: app features. 

Step 2:

Find the list of applications in the given option and locate Microsoft photos. 

Step 3

: Check the advanced options. 

Step 4:

Next, go to the reset tab and reinstall the application. 

Step 5:

Confirm your command and tap on the reset button again. 

Step 6:

Once done, restart your computer and see the issue is resolved. 
Frequently Asked Questions
1/ What happened to the photos app?
With the new Windows 10 updates, many users encounter the error message "Oops we couldn't save that one" when saving edited photos. 
2/ Is the Run administrator safe?
Yes, it is safe and sometimes necessary to run programs smoothly. 
3/ Why do I see "Oops we couldn't save that one?"
 The major reason is the corrupt EXIF. You can resolve it by using Paint.
Hello, with 11 years of professional full stack development experience in Design, application and web Development, Backend Development, UI design and Mobile development I hope that I could help you to solve your problems while using Windows programs.
My Technical Expertise in C#, VB.net, C++, Java, C, SQL, PL/SQL, HTML5,CSS, JavaScript, Angular 2.0 – 5.0, JQUERY, Type Script, Node.js. ASP.Net (2.0 – 4.6), ASP, Ajax, Web Services (REST and SOAP), Web API, WCF, SQL Server, Oracle, MySQL, Postgre SQL and NoSQL(Mongo),Reporting Report Builder, SSRS
My Linkedin profile: Link.